Heinz and Walther on extended cycling tour
1949 Lübeck - Köln (Cologne) - Lübeck
and hitchhike Köln - Frankfurt - Köln
Riding the bikes more than 1.000 km
Four years after World War Two, among the ruins of the cities, what can we do in our school holidays?
My friend Heinz and I decided:
We visit my relatives in the small village Küingdorf and perhaps also those in Cologne.

We ride by bicycle!
Yes, at that time we had already bicycles. They were old, without gears. Our most important baggage:
puncture repair outfit, tool kit.
Life in those days was very different from nowadays.
A lot of young people made similar travels. When we met, the salut was "Servus!", loud and joyful, without any meaning. But Heinz and I knew the background of that word "always at your service".
So we did not repeat "Servus!", but answered "Dominus!" meaning "I am the boss!".
No plans for the travel, just start !!
From Lübeck along the road to Hamburg, continuing to Soltau, river Weser, Minden, Porta Westfalica till Küingdorf.
Normally we stayed overnight in a youth hostel.
→ Porta Westfalica.
view from
→ Emperor William Monument
above river Weser
Grandmother rejoiced at our visit
Küingdorf
Küingdorf is a small village nearby the mountains of  → Teutoburg Forest
After the war my aunt Gertrud and her family had found accomodation at their relatives at a farm. Grandmother Martha also lived there.
We were happy to see us again.
Start towards Osnabrück, Walther
Forward!
First to a friend in Osnabrück, then drive, drive, drive to uncle Werner and aunt Liesel in Cologne.
This tour really was an adventure. For example we traversed the
→ Bergisches Land, a region with very steep roads.
The street downwards from a youth hostel began with a signpost:
"Do not drive on your bicycle! Wheel it! Very steep road!"
We did not care, because we trusted our coaster brakes. When we arrived the bottom of the hill, the grease in the ball bearings of our rear wheels was boiling hot.

Suddenly we were in  → Cologne and they welcomed us.

Hitchhike to the South
And now? We had an idea:
We parked our bicycles at Cologne and started a hitchhike southwards. In those days hithhiking was not so strange as nowadays.
There existed already a highway between Cologne and Wiesbaden / Frankfurt. But there were a lot of war damages. Destroyed bridges had to be driven round, lanes were damaged.
We had no plan for a destination, but finally we arrived in Frankfurt.
Reconstruction of the destroyed bridge of the highway across river Lahn at  → Limburg
Next destination river Rhine
We stayed overnight in Frankfurt. Someone told us, that there was a ship starting to  → Rüdesheim.
Rüdesheim? Isn't that town at the river Rhine? We entered the boat.
We arrived at Rüdesheim and suddenly decided to walk! Forward march! On the road downstream the river Rhine. Passing the  → Rhine Gorge with the  → Ehrenfels Castle.
Walking along the Rhine Gorge
Ehrenfels Castle
Overnight in  → Lorch, then further on walking, walking. I remember that we also took a bath in the Rhine. There were glass fragments which hurt my foot. No problem.
Sometime we stopped a truck, again hitch-hiking in the direction of Cologne.
A side trip to the  → Ahr Valley, where we celebrated my birthday
...and I drank the first glass of wine in my life ...
... or two glasses? Anyway there was some trouble in the dormitory of the youth hostel.
Back to Lübeck
Another stop in Cologne at uncle and aunt. We saddled our bicycles and treadled back to Lübeck. We did not cross the river Elbe in Hamburg but took a ferry near Winsen
There are some incidences you will never forget in your life. We approached  → Wetter at river Ruhr.
Downhill! Speed! More speed! Joyful!
Pedestrians waved intensively, we waved back...
Suddenly a sharp deviation to left. Behind some white-coloured stones the abyss. Down there the railway track.
We had luck. We made it. Otherwise I could not tell about this shock.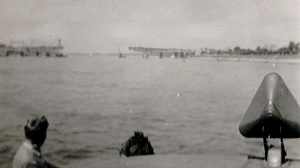 New construction of a bridge across river Rhine
Only a few photos? Low quality?
From that tour I have only three additional photos with no more information. In those days we had a so called box camera and a few films. One film had place for 12 photos.
Not comparable to the nowadays flood of images.